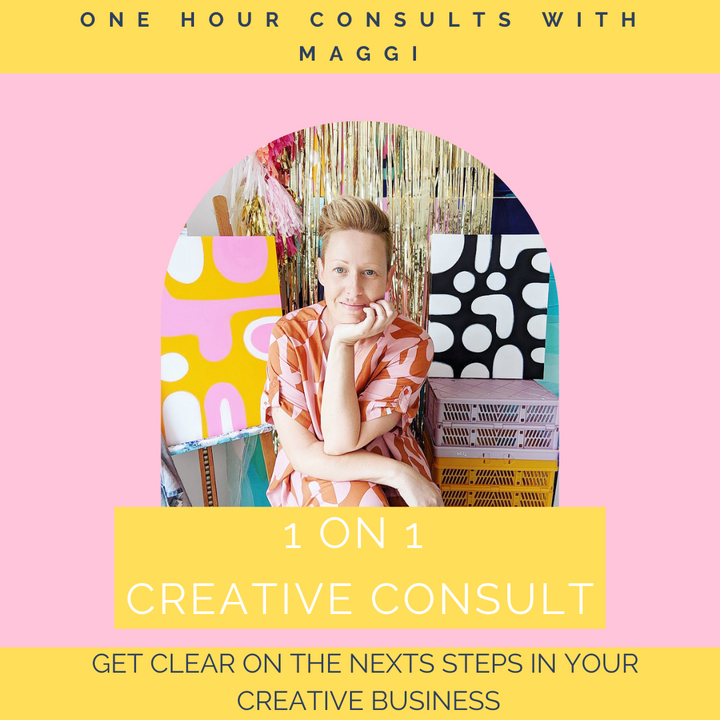 1 ON 1 CREATIVE COACHING CONSULT
Regular price $249.00 Sale
or make 4 interest-free payments of $62.25 AUD fortnightly with
More info
GET CLEAR ON THE NEXT STEPS IN YOUR CREATIVE BUSINESS.
Do you need help with getting clear on the next steps for your creative business? Are you stuck on something that is holding you back from achieving your goals? Do you need to talk through ideas for your business? Or do you just have some questions you would like to ask me? 
My CREATIVE COACHING CONSULT is the perfect way to pick my brain and get unstuck so you can move forward in your creative business. 

How it works: 
Book your 1 hour session via the calendar.

I will send you a questionnaire about your business and any challenges/specific questions you have. I will be researching your business so we can have a productive session and answer all your questions.
We connect via Zoom for a productive session where I will answer all your specific questions and provide feedback and suggestions based on my research of your business. Think of this as a workshop session - make sure you are prepared to get the most out of this session. 

Some topics/questions we might cover 
How do I transition from a side business to full time creative
Selling art online (different platforms and selling strategies)
How to price my art
How do I move forward when I'm struggling with self doubt (this is something I do ALL the time so a good one to talk through)
Basics of setting up a creative business 
Social media strategies
Licensing 101
Collaborations - tips to get the best out of collaborations
Setting up a studio 
If this sounds like something you need in your creative business I would love to help you take the next steps - I love nothing more than encouraging creatives to reach their full potential and helping them choose the right actions every day to move forward. 
If you can't find an available time on the calendar please get in touch on here to see if we can find a time that works for both of us.